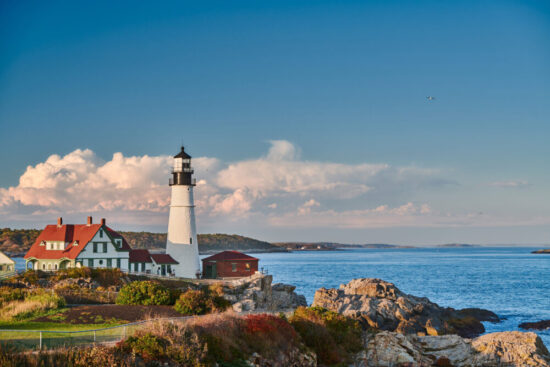 Maine is a beautiful, unique state. If you've never had the chance to go there, then make sure to put it on your bucket list. If you do happen to live there, though, then you might find yourself looking to make some extra cash. There are lots of great jobs in Maine. And some of them are really great as side gigs, seasonal jobs, or for part-time or retirement income.
6 of the Best Side Hustles in Maine
Here are half dozen of the best side hustles in Maine if you're looking for a part-time or seasonal gig there:
1. Lighthouse Keeper
There aren't too many states where you can get a job as a lighthouse keeper. However, Maine provides that unique, interesting option. There are also many other jobs you can get at similar tourist attractions, where you can share the history of Maine with visitors. Go the extra mile and start a blog or YouTube channel about the topic in order to earn some extra money online as well using the knowledge that you gain from the job. This has go to be one of the best side hustles in Maine. Or anywhere for that matter.
2. Create a Maine-Based Brand
What do you love about Maine? What does it mean to you to live in Maine or to be from Maine? In other words, what is it that truly makes Maine special? Take your experience with that and use it to create art or products that have a uniquely Maine vision. Then you can sell those through Etsy, other online channels, or locally at farmer's market, craft fairs, on commission, etc. 
For example, the LiveME (Live Maine) brand has T-shirts and other products that relate to fish, beer, and more. The founder started it almost by accident just by sharing the things that he loves about the area creatively with other people. And it's grown into a big side gig. You could do the same. There are more ways than one to think about Maine!
3. Selling Things Tourists Want
This is sort of a variation on the last idea. More specifically, though, this is about creating items that tourists will be right there on the spot. While your Maine-based brand could certainly be among those, this also applies to other things. For example, sit out at a tourist spot and sell watercolor paintings of the Maine coast. Or in summer, set up a stand selling sunscreen, windbreakers, and other items tourists might have forgotten to bring for themselves. You can usually sell such items at a markup. It's a great side gig that you can do on your own schedule, although obviously weekends and summers provide the best sales opportunities. Of course, make sure to look into any permits required for the particular areas that you wish to vend in. 
4. Dog Walking as a Side Hustle
You can get a job walking dogs in any state. Some are more likely to be successful than others. Usually, when people think about hiring a dog walker, they think about urban areas like New York and San Francisco where the humans are at work all day and need someone to pop in and take the dog out of the apartment to go the bathroom.
However, there are other reasons humans might want to hire a dog walker instead of doing it for themselves. For example, older people might not be able to keep up with all of the energy of a young puppy. And some people don't want to go out in inclement weather. Since Maine has plenty of both of those things, dog walkers are in surprisingly high demand. Therefore, this is one of the best side hustles in Maine.
5. Purchase Property to Rent Out
Rental properties do really well in Maine. If you're in the position to purchase a house that you can rent out to others, then this is a wise investment.
Of course, people who bought up land in less-popular places years ago where the value of those places has now gone up are doing great for themselves. It's not always easy to spot those opportunities. If you have a knack for the real estate market, though, then you can certainly speculate on what might be popular next.
Otherwise, though, your best bet is to look for an affordable fixer-upper in a tourist area, fix it up as DIY as you're able, then rent it out especially during peak season. One person on Reddit lives on his own land in Maine and gets by through fishing, hunting, etc. They purchased a ski house with a family member, which they use for rental income.
Similarly, investing in land and/or flipping houses is an opportunity that many people find worthwhile to take advantage of in Maine.
6. Cannabis Industry Jobs
As a Californian, I sometimes forget that the cannabis industry also thrives elsewhere. On that same Reddit thread, more than one person mentioned that they manage to deal with increasing cost of living in Maine by working in the cannabis industry. There are all different types of jobs within the industry, including seasonal and part-time jobs. These include farming jobs as well as sales jobs. If that's an industry that interests you, then it might be one of the best side hustles in Maine that you wouldn't initially think of as you look for a job there.
Other Part-Time Jobs in Maine
I did a quick search on indeed for currently available part-time jobs in Maine. There are a diverse range of opportunities including:
Lobster pound grader
Delivery drivers
House and office cleaning jobs
Property inspection work
Swim instructors for the summer
Health jobs including CNA, behavioral health and mental health work
Dental assistants
And lots of jobs in restaurants and bars for cashiers, hosts, wait staff, bartenders, etc.
Read More:
Come back to what you love! Dollardig.com is the most reliable cash-back site on the web.  Just sign up, click, shop, and get full cashback!
Kathryn Vercillo is a professional writer who loves to live a balanced life. She appreciates a good work-life balance. She enjoys balance in her relationships and has worked hard to learn how to balance her finances to allow for a balanced life overall. Although she's only blonde some of the time, she's always striving for total balance. She's excited to share what she's learned with you and to discover more together along the way.
!function(f,b,e,v,n,t,s){if(f.fbq)return;n=f.fbq=function(){n.callMethod?
n.callMethod.apply(n,arguments):n.queue.push(arguments)};if(!f._fbq)f._fbq=n;
n.push=n;n.loaded=!0;n.version='2.0′;n.queue=[];t=b.createElement(e);t.async=!0;
t.src=v;s=b.getElementsByTagName(e)[0];s.parentNode.insertBefore(t,s)}(window,
document,'script','https://connect.facebook.net/en_US/fbevents.js');
fbq('init', '2066591596962733');
fbq('track', "PageView");



Source link